Is Your Business Energy-Clever in 2017? Part 1
What are clever business owners/ managers doing to spend 50% less on their electricity?
The Problems:
Did you know some businesses experienced up to 200% increase in electricity retail rates in 2017? How will your profit be affected by it?
Will you allow the volatile energy market to control your destiny?
You would like energy reduction but what if you are just too busy?
How do your customers perceive your business' commitment to sustainability?
So many energy reduction suppliers such as solar or lighting companies have come and gone, how would you find trustworthy suppliers in this confusing market?
Would conflicting information on Google be enough to qualify which suppliers deserve your hard-earned money?
How would you know the return on investment?
Why This Guide
Did you know that in 2017 some of our commercial clients have been shocked by increase to (up to) 3x of previous rates when looking at renewal of their electricity contracts? Energy has been on the news so often recently: Hazelwood closure, grid issues and regulations, coal lobby group, changes in renewable energy scheme, politics on energy etc. These are such complex issues and outside of our control. How can a business owner/ manager protect profit and run a sustainable business? Why don't we focus on what we can control: our own energy (electricity) reduction?
As specialist energy reduction engineers, our training and experiences enable us to analyse technical solutions, assess financial performance, identify and minimise risks as well as propose suitable solutions. This guide is a simplified version of hundreds of hours of our work. Free Engineer (FE) made this guide available at no charge to help people have more confidence to take the win-win-win step to embrace renewable energy. The good news is you don't have to pay a senior engineer's rate of $250-$375/ hour to access the knowledge and experiences contained within this guide.
Possible strategies for commercial and industrial electrical energy reduction:
On this blog we will focus on 2 strategies, Solar PV and Lighting upgrade.
Before getting into the details, it's important to understand your goals. Have you considered your drivers and energy goals?
Are your drivers one or more of the following?
Cost reduction/ profit maximisation
Energy independence – reducing exposure to uncontrollable grid electricity prices
Meeting corporate sustainability goals
Reducing CO2 emission
Green marketing/ branding
Improving reliability of supply if this is an issue
Avoiding costly capacity (supply) upgrade by electricity distributors if you need increased capacity due to production needs etc
These will define where you are and where you want to go, which provides clarity to your energy journey.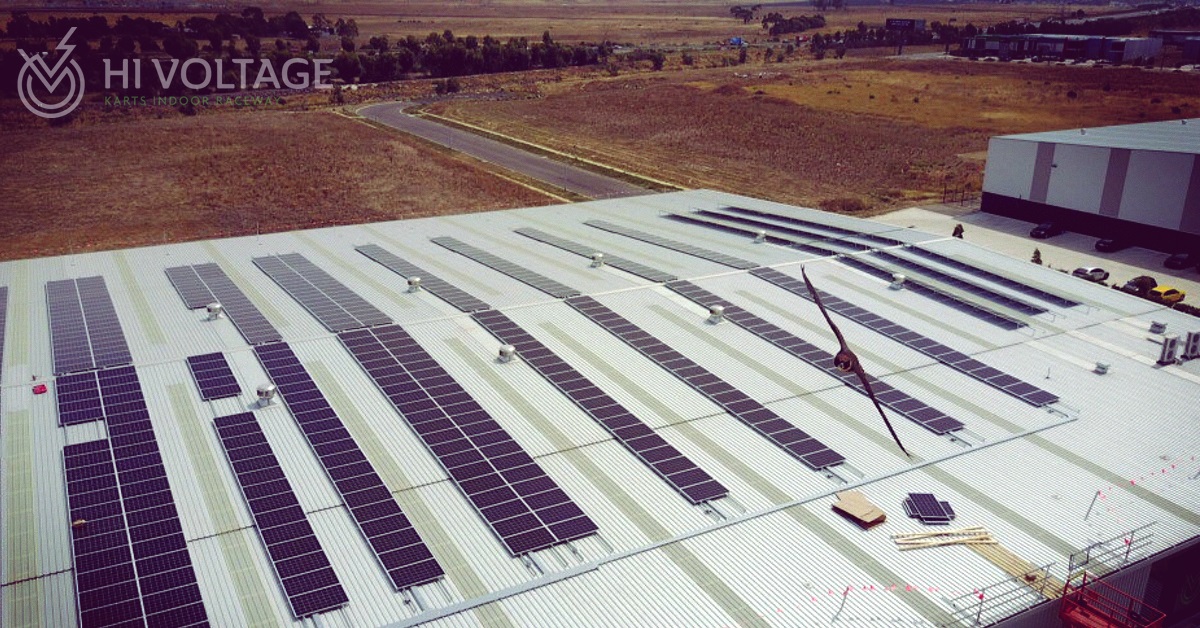 Pic: one of our projects - install was near completion
A. Custom-designed solar PV
Most people are aware of the basics of PV. Why commercial solar?
Energy independence – reducing exposure to uncontrollable grid electricity prices
Payback generally has become shorter as explained below
Quality panels' design life is about 25 years with market-proven reliability of generation in Australia
Flexible, most sites in Australia can benefit straight away
Low maintenance and less engineering involved
Unlike other solutions explained here, it can allow many businesses to reduce up to 60% of grid consumption through on-grid solar (before energy storage becomes viable for commercial)
Unlike other solutions explained here, you actually generate your own power instead of just reducing energy
Unfortunately, due to the rapidly changing and confusing solar markets, most businesses misunderstand the value of solar and where to start. 2017 is expected by industry experts as another year of boom for solar. We have come across commercial solar PV payback as low as 3.5 years! Are you surprised?
There have been a few changes that made solar a no-brainer for most businesses in 2017 such as:
a. Despite the rumour that the solar PV rebate is gone, this is not true because the STCs (Small Technology Certificate) still redeemable and only reduced by about 7% in total 'rebate' value from 2016 into 2017
b. Uncertainty in energy market such as Hazelwood closure has driven wholesale electricity forward price up to 3 fold only in 1 year period – this improves solar payback
c. Minimum feed-in tariff had reduced to just about 5c/ kWh in VIC. However, this now has been raised to 11.3c/ kWh See http://delwp.vic.gov.au/energy/electricity/victorian-feed-in-tariff
d. Market pressure and technology advances have allowed PV panel prices to have kept declining in the last few years and expected to continue for time being
However, to get the full benefits and savings from PV, you will need more than any solar company employing a few tradies slapping a bunch of panels on your roof. Please refer to Free Engineer's guide no 4 to avoid costly solar mistakes
B. Have you done LED lighting upgrade?
One obvious way to see energy reductions is to upgrade lighting to LEDs. Replacing high bay, metal halide lights with LEDs can reduce energy used for lighting by up to 80% (depending on your current lighting), while also reducing maximum demand. Lighting upgrades can also improve employee safety through increased illumination. Some argue that better illumination may lead to improved employee mood and workplace productivity.
Depending on the case, installing smart lighting system such as motion sensors can further enhance your reduction.
FE have seen short payback of around 3 years up to only a few months is possible across our commercial clients.
Depending on the property/ project, a couple of the above may be not relevant. The above is not an exhaustive list because every site is different. If one solution above has longer payback period than you expect, a specialist engineer can help you to assess combined solutions to achieve lower total payback. FE can help assess and advise which solutions above would be suit your site and your needs.